The Refill Scheme is an award-winning campaign that makes it easier to reuse and refill your water bottle on the go instead of buying a single-use disposable plastic bottle.
The aim of this campaign is to reduce single-use plastic by making it the norm to carry a refillable bottle (instead of buying bottled water).
Businesses are encouraged to sign up to the App and display the Refill Scheme sticker in their window to alert passers-by that they're welcome to come in and fill up their water bottle.

And citizens are encouraged to carry their own refillable bottles and use those Refill Stations to top up their bottle with tap water from them.
Anyone can download the free App to find (or upload) the details of their nearest Refill Station so that the Scheme successfully connects people with local businesses and community venues where they can refill their bottle with tap water, free of charge.
Our Milton Keynes campaign
We are championing the Refill Scheme in MK and have been working with the POWER Water Community, MK Council, Citizens:MK and local schools and businesses to put Refill Station taps on the map.
Read more about the poster competition we ran with local schools to help promote the scheme back in 2019 here.
How you can help
High street chains like Greggs, Costa Starbucks and Wetherspoons are offering free water refills as part of the scheme at some of their stores.
Help us to get their MK Refill taps on the map and spread the word!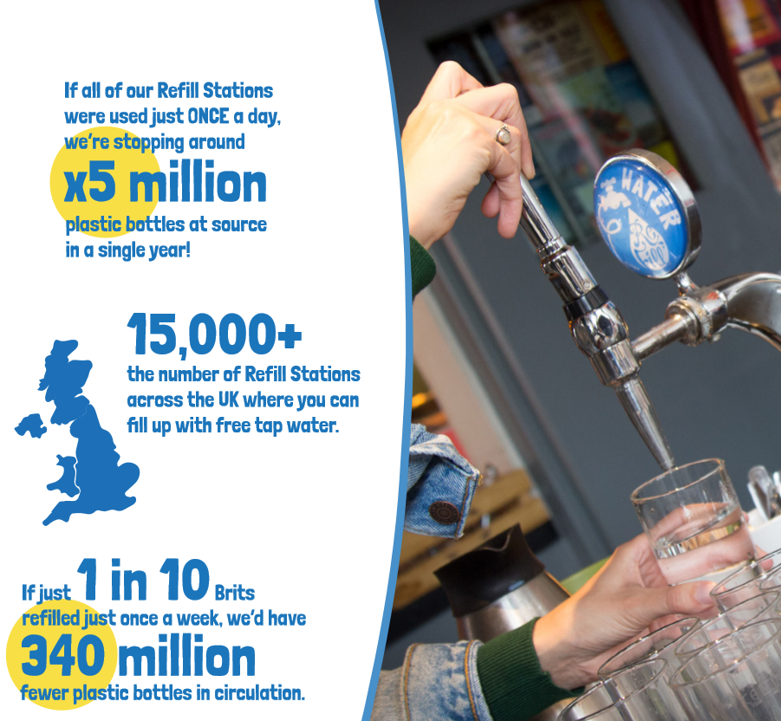 Contact us to get involved in this project and others to help conserve water and reduce plastic pollution.