Competition winners on display at Intu (CMK) until 11th June 2021
Visit Intu in Central Milton Keynes to see the winners from our Imagine MK 2030 competition. They are on display until 11th June 2021.
2nd June 2021
UK farmers take part in 12 year trial of combining trees with pasture
"Farmers in the UK, for the first time, are getting the chance to co-design research to determine the benefits of integrating more trees on their farms. A farmer-led agroforestry project launching this month will spend the next twelve years investigating whether the practice is a viable way to address the climate and nature crises while maintaining productive farmland." (Innovative Farmers and Woodland Trust are the joint funders).
21st May 2021
Plastic Waste Makers Index identifies top single use plastic producers
Exon-Mobil heads the list producing 5.9m tonnes a year. Barclays is the biggest lender to these polluters, with a total of $3bn in loans. The country that pollutes most is Australia using 59kg of single use plastic per person a year, while we in the UK are joint third with South Korea contributing 44kg per person per year. See the report here…
21st May 2021
Commit to no new fossil fuel developments to meet Net Zero by 2050 says IEA
The International Energy Agency has released a report on how to reach Net Zero by 2050 and says that governments need to slam shut the gap between rhetoric and actions by immediately stopping any new coal fired power stations (yes, UK, that means us) and any new extraction of fossil fuels (the UK is allowing new oil and gas extraction in the North Sea). Read the summary and the report here…
19th May 2021
Transition Town discussion on Universal Basic Income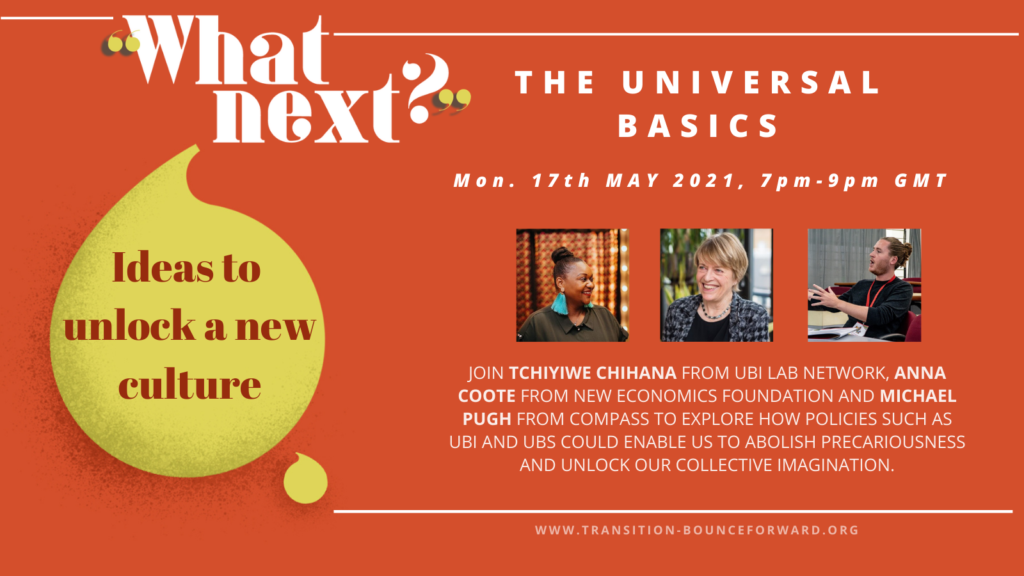 Join our speakers Tchiyiwe Chihana from UBI Lab Network, Anna Coote from New Economics Foundation and Michael Pugh from Basic Income Conversation to explore how policies such as Universal Basic Income and Universal Basic Services could enable us to abolish precariousness and unlock our collective imagination and skills.
Monday 17th of May, 7-9pm. We look forward to seeing you there!
Award-Winning Film free to view until 9th May
The award-wining film "Revolution" that documents the devastating effects of ocean acidification is available for free until 9th May 2021. It shows Rob Stewart's journey of hope as he meets activists and individuals all over the world who are winning the battle to save the ecosystems we depend on for survival https://therevolutionmovie.com/index.php/watch-the-movie/
28th April 2021
28th May 2021 – Mayor to award Imagine MK prizes
The Mayor of Milton Keynes, Mohammed Khan, will be awarding prizes to our Imagine MK competition winners at Intu. Intu is then generously hosting a public exhibition of the winning entries for two weeks, where we will be able to see what ideas people in MK have for Milton Keynes 2030. The exhibition will then be held at four other locations before we start our August program of related events.
Our #ImagineMK campaign builds on the idea that together, our collective imagination can help us to dream, plan, and build the future we want for a more sustainable Milton Keynes. Things need to be different if our city is to succeed in its ambition to become carbon neutral by 2030. We are excited to see what changes our competition entries propose for helping make that happen.
27th April 2021
Planting More Trees
Why should we plant more trees? How can we get involved?
Although we already have 22 million trees in Milton Keynes and no-one is more than 1/2 a mile away from a green space, Community Trees:MK are working to increase this and would like you to help them do so. Find them at facebook.com/communitytreesmk.
Why do we need more trees?
Trees absorb and store carbon dioxide as they grow and a mature oak can store up to one tonne of CO2 over its lifetime (several hundred years). Trees play an important part in dealing with the excess CO2 in the atmosphere caused by humans burning fossil fuels.
Nature, and particularly trees, are good for our mental health as numerous studies have shown, including one that found that hospital patients recovered better from operations if they could see nature outside their hospital window.
Wildlife will flourish where a variety of native trees are planted. Some insects, birds and other animals that are threatened or endangered need these habitats. One oak tree can house up to 2000 different species from fungi to birds.
Lucky Milton Keynes
We sometimes take our green spaces for granted, but now, more than ever, is the time to get out and take advantage of all the nature around us.
27th April 2021
Pristine tropical forest saved for perpetuity
To coincide with Earth Day, Nature Conservancy have allied with others to buy 950 sq km of forest in Belize. The land is uninhabited but is bordered by many different communities, who. in consultation with the new owners will determine how to meet the need for livelihoods and preserve the area. There will be no logging, but any other solutions are up for discussion. The land forms part of a corridor that connects forests in Guatemala and Mexico. Read the article here.
22nd April 2021
Is "Net Zero" really a target?
Leading scientists express concern that a fixation with "net zero" in reality leads to sliding goalposts and inaction. This is an important read.
22nd April 2021
Air passenger duty cut – condemnation from environmentalists
Air passenger duty is being cut on domestic flights in a move widely condemned by environmental campaign organisations. Read it here
10th March 2021
Obsolescence becoming obsolete
New Government legislation is intended to force manufacturers of electrical goods such as fridges, washing machines and TVs to make spare parts available with the aim of extending their life by up to 10 years. Read it here
10th March 2021
Biodiversity report published
The Dasgupta report on the "Economics of Biodiversity" has been published. Read it here.
2nd February 2021
Skip back to main navigation